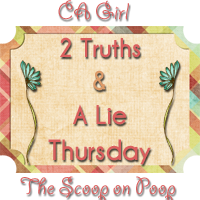 You've played this game before, so why not join The Scoop on Poop and CA Girl every Thursday by:
1. Grabbing the handy little button on the sidebar
2. Posting your 2 truths and a lie
3. Link up
4. Reveal your lie the next week!
5. Visit others who link up and leave a comment guessing their lie.
Last Weeks Reveal
1. My favorite flower is fire and ice roses:
Love them! Before we were married, my husband got himself in a bit of trouble and so he went all over town to find me some (true F&I are sometimes hard to find).
2. I once hid a piece of half-eaten sushi in my purse:
hee hee, yes I did. We were at an all you can eat place, and if you don't finish it you have to pay for it. This piece of fish was so extremely nasty, there was absolutely no way I could swallow. So I stuck in in a napkin and put it in my purse. I am gagging just thinking about it
3.
My favorite color is light pink
:

Ah BlueViolet....you are right, this is a lie. I really don't know IF I have a favorite color. Depends on my mood, the day, and what the color is for.
THIS WEEK'S 2 TRUTHS AND A LIE
1. I HATE the sound of fingernails on a chalkboard
2. The sound of anything running down the side of a comb makes me shiver
3. I want to smack people that suck on something when talking on the phone.